Souvenirs from Russia and Greece cartoon image free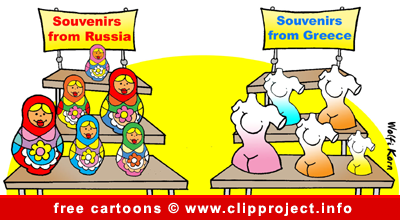 Image information
Description
Souvenirs from Russia and Greece cartoon image free
Keywords: Funny cartoons for office, shop pictures for free, free shop caricature, download free shop cartoon, funny cartoon pictures, short funny jokes for office daily grind, free office cartoons download online, funny pics for work, jokes for emails and newsletter, humorous jokes for work days, good jokes
Jokes for daily routine in office
It was the day of the big sale. Rumors of the sale (and some advertising in the local paper) were the main reason for the long line that formed by 8:30, the store's opening time, in front of the store. A small man pushed his way to the front of the line, only to be pushed back, amid loud and colorful curses. On the man's second attempt, he was punched square in the jaw, and knocked around a bit, and then thrown to the end of the line again. As he got up the second time, he said to the person at the end of the line... "That does it! If they hit me one more time, I won't open the store!"
###
PLACE FOR YOUR FUNNY JOKES!
If you have funny appropriate jokes, please send there to us via field "Comments" below. After check by admin, your jokes will/can be published on this page.
Share this image in Forums (BBcode)
Include image :
Link image :
Total images in all categories: 238
Total number of hits on all images: 1,435,039

---