Soccer cartoon image for free - goal keeper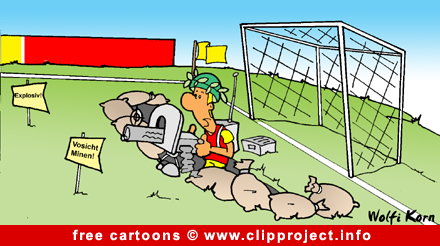 Image information
Description
Soccer cartoon image for free - goal keeper
Keywords: Funny Football Cartoons for free, funny cartoon footballer, free footballer cartoon, free footballer picture, free Cartoon images Soccer, Gratis Sport Cartoons, Funny soccer images download and print for free, football cartoon, free football cartoons, funny soccer cartoon, football clip art free
Jokes about Football
After spending all day watching football, Jimmy fell asleep in front of the TV and spent the whole night in the chair. In the morning, his wife woke him up. "Get up dear," she said, "it's 20 to 7" He awoke with a start and said, "In who's favor?"
###
PLACE FOR YOUR FOOTBALL JOKES!
If you have funny appropriate jokes, please send there to us via field "Comments" below. After check by admin, your jokes will/can be published on this page.
Share this image in Forums (BBcode)
Include image :
Link image :
Total images in all categories: 238
Total number of hits on all images: 1,437,109

---