Lion and crocodile cartoon fir free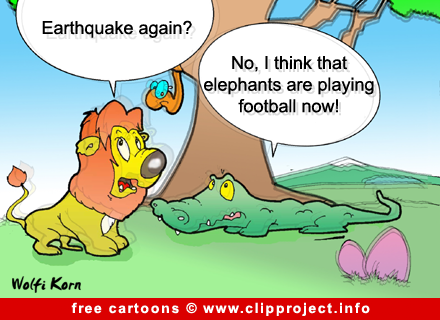 Image information
Description
Lion and crocodile cartoon fir free
Keywords: Funny zoo cartoons for free, funny cartoon lion , free crocodile cartoon, free lion picture, free animals cartoon images, animals cartoon pictures download and print for free, funny animals cartoons for websites, blogs, social networks.
Jokes about Animals
Lonnie the lioness caught her husband Claude the lion searching high and low all around his living room.
Lonnie: "What are you searching for?"
Claude: "Hidden cameras!"
Lonnie: "And what makes you think there are hidden cameras here?"
Claude: "That guy on TV knows exactly what I am doing. Why every few minutes he keeps saying,
'You are watching the Discovery channel'. How does he know that?""
###
PLACE FOR YOUR ANIMALS JOKES!
If you have funny appropriate jokes, please send there to us via field "Comments" below. After check by admin, your jokes will/can be published on this page.
Share this image in Forums (BBcode)
Include image :
Link image :
Total images in all categories: 238
Total number of hits on all images: 1,311,269

---