Homo Sapiens cartoon free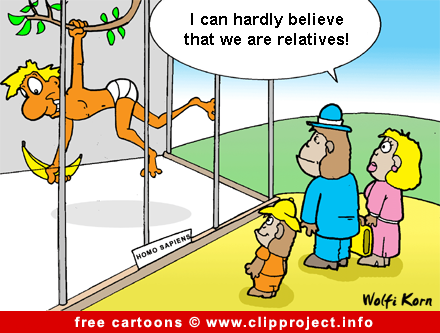 Image information
Description
Homo Sapiens cartoon free
Keywords: Funny cartoons for office, cars pictures for free, free cars caricature, download free cars cartoon, funny cartoon pictures, short funny jokes for office daily grind, free office cartoons download online, funny pics for work, jokes for emails and newsletter, humorous jokes for work days, good jokes
Jokes for daily routine in office
A three-year-old boy fell eighteen feet into a zoo enclosure containing seven gorillas. He was immediately rescued, not by zookeepers, but by one of the animals. The 150 lb. female gorilla picked up the unconscious form of the boy and laid it at a door to be easily retrieved to by zookeepers. This cross-species rescue has resulted in thousands of dollars in donations to the zoo. It is perhaps because of these donations that zookeepers have kept quiet about one vital detail, a hastily scrawled note tucked in the boy's collar, "Thanks; but we prefer fruit."
###
PLACE FOR YOUR FUNNY JOKES!
If you have funny appropriate jokes, please send there to us via field "Comments" below. After check by admin, your jokes will/can be published on this page.
Share this image in Forums (BBcode)
Include image :
Link image :
Total images in all categories: 238
Total number of hits on all images: 1,435,000

---